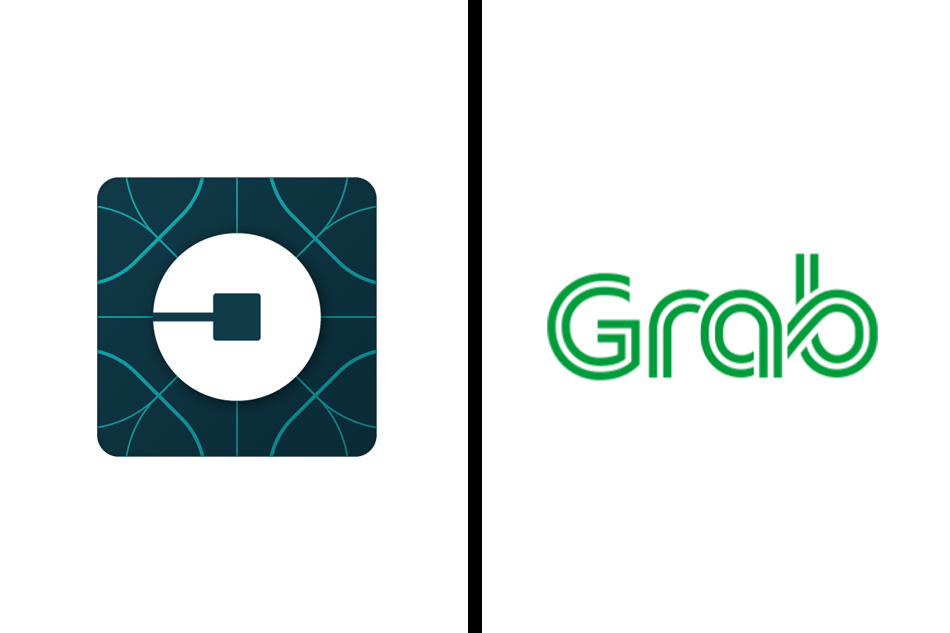 Uber is originally a German word, means denoting an outstanding or supreme example of someone, or something.  For example, an uber-cool bar, self proclaimed uber-bitch.
Grab, means grasp or seize suddenly and roughly.
So we could use uber-grab, would means supremely sudden to rough.
As a consumer, I remember clients asking me, you sure about taking Uber or Grab to airport, not the taxi?  My answer is always a firmly yes.  They acknowledge when we submitted our claims using Uber or Grab.
Until the most recent family trip to land of the Rising Sun, I was convicted when a night before the flight, I booked an Uber XL, then we got an Alza, which I have to cancel, then requested again, got an Avanza, I canceled it again.
Tried Grab.  Alza, Avanza and then Grand Livina.  I cancelled all of them, went online, found a KLIA transfer operated by a taxi company, and ordered a cab, an Innova, which I think could fit 5 of us with large luggages, as compares to Avanza, Grand Livina and Alza.  I know many of the family members love their Alza, no offence taken.  We all love our cars.
Contacted Uber when I was charged RM5 for cancellation.  Highlighted that Uber needs to work on the algorithm or some form of better judgement in terms of deciding what is XL, 6 seaters, and more so, could fit a family of 5 to airports with luggages.  I got an acknowledgement, "Mr. Tan, noted on your comment, thank you."
Ok, coming back to why I was convicted.
While Tan-Vijayans are monsters or monkeys at times, but they are our children.  So, their safety is our priority.  I asked myself, would I compromise the cheaper traveling cost, and neglecting our safety?
I think about it for a while, I am pretty sure, the less than RM100 which I could save would not be able to compensate what we could loose.
I have listed some points why you should not use Uber or Grab, while it disrupts many taxi driver life, or in fact I have how Grab or Uber drivers gave up their jobs to drive, and ended up, regretting their decisions.
Safety
There is no way we could guarantee the safety of everyone while taking public transport.  But the most critical part, at least we know that the taxi drivers would have gone through training on safe driving, passenger handling as well as protection in the form of insurance.
The nice gent from East Malaysia whom took us to the airport recently attended a safe driving course organised by the association and an international petroleum company (no name for free promo as I am not working for anyone of them).  The cost was RM600 for 6 hours.  He undergone handling of vehicle when encountering engine fault, loosing balance and others.
I was on Grab this morning, heading back to work after a meeting, the driver drove seriously fast (on an Alza), and causing massive jerking, because of sudden slowing down, accelerating.  Retna knows it really well how I prefer her to fetch me from airport than taking taxi or Uber or Grab, because of the driving behaviour by the drivers.
I feel the drivers are rushing for the incentives, and passengers (me) just a number to them.  Hitting 4 passengers in an hour for certain amount of incentives.  Something like that.
You Are Just A Number To The Disruptive Economy Business Model
Ok, or a statistic to fill.  I am not against the number, it is crucial for big data application.
I am a small number (in large size) to be filled and achieved some kind of incentives.
When You Compromise Values 
I remember attending a meeting hosted by public relation association in Malaysia some time back. The president pressed to have all agencies to maintain a standard rate card, and not to lower the amount to kill competition.  That did not happen, I think.  In fact most may have lower the rate.  Because we all think, when you do not want to do, many others lining up to do it.  So cutting price is a way to go.
Hold your thoughts on price cut.  It may work, for short term.  Like OPEC (body governing the oil), they reduce the production so to increase the oil price, when it hits the lowest.  Look at Venezuela, the oil price crippled the nation.  I was in Brunei, and could see the impact on the society and economy when the oil price continues to drop.  Well, good news is, the oil price is going back up.
Don't scold me on the oil price going up.  It is important to know that some and perhaps many people rely on their living on the uprising of oil price, even for our nation too.  Increase in price is good for economy in terms of government to have more to spend.
With this long illustration.  I am illustrating, the value is important for a product or service.  When it reaches so low, how does one make any money?  More so to survive?  When there is no money to be made, who wants to do it?
So with Uber and Grab constantly on the incentive pumping and rewarding the passengers with loyalty programs, cheap rides, how is the driver survive?
Good thing is that none of the drivers are Uber or Grab employees.  So, no compensation required when in need to get rid of the employees.
I remember working on a client 16 years ago, an international brand pushing aromatherapy, through multi-level marketing model.  So many levels, downlines in a system.  The CEO of the company told the media that every day there are few hundred of new members signing up.  Waiting to be the next millionaires.  CEO did not share with media, how many also left the system daily.
So how Uber or Grab drivers have left the ride hailing ecosystem?
Drive Grab or Uber To Pass Time 
Good idea.
I have met grandparents whom picked me from airport here as well as East Malaysia.
However, how many grandparents have driving licence and could drive around, safely?
I am sure my mom would love to drive around, chatting with people.
How Old Is Your Car?
I remember speaking to Uber when it first started on the car age.  I was told below 5 years.
This morning Grab driver told me, it is not revised to 10 years old.
While in Japan, we rode on taxi – Toyota Crown mainly.  I made a mistake in terms of airport location resulted us to rely on taxi before we missed the flight.  Interestingly, during the journey, the driver (in his little English) told me that the car is 15 years old.
He has to send the car for annual inspection, as attend course to evaluate on his mental fitness and of course health screening.
I am sure the taxi drivers in Malaysia also undergoing the same thing, and I spoke to taxi driver in Madrid, he told me the same thing too.  However, in Spain, as well as Italy (we got conned by taxi drivers to take longer way back to hotel), they have really strong union to protect the taxi drivers.  So far while we were there, other than the bad apples, was a pleasant ride.
Japan, being the exception.  We took 2 taxis to head to Tokyo Station for the Shinkansen, twins told me, I should begin to put Alphard and Vellfire into list of cars I should be buying.  The drivers are also neatly dressed, in suit and tie.  They greeted us in very little English, and we responded in the little Japanese we know.  The driving pattern is safe and courteous.  They have asked Inez is the air-cond was too cold and the TV program was ok for her.
Screening Process
Uber and Grab should never leave this part to the authority to check on the criminal background of the drivers.  There have been cases reported on rape, robbery as well as death while riding Grab or Uber here and abroad.
As a concern parents, I have heard horror stories from our twins.
Recently 1 driver told them that he has been stalking a female student from their (former) school.  I only found out about this a month later.  I could not find the trace of the driver from the app.  I fear for the safety of such female student.
Driver told twins how he dreams of her at night.
So, should we parents worry?  Yes, very.
Just Quit Your Job, Drive Uber or Grab la
To me, when you are doing something, making living, please ensure you put 100% effort into it.
Not half hearted.  If half hearted, maybe you should switch job to do something else.
I once on a Uber, of which the young driver just woke up from his sleep in his pyjamas short, 'hole-y' t-shirt, sending me to my destination.  He told me, while having late breakfast, he turned on the app, and saw the request.
For me, dress code is crucial, especially that is how a stranger is going to judge you.
When Free Money Stops 
How the ride hailing being economically viable – the large money and investors pouring in the funds.
The large pool of funds are used to channel to the drivers and passengers to be a part of the system.  I have enjoyed numerous Gong Cha complimentary drinks from Grab Rewards.  I have not received anything from Uber, anything close to rewarding my loyalty.  There is nothing wrong with loyalty program as it is a way to encourage more usage by the passengers.
Do you think the money will not stop?  It will.  Nothing is too good to be true.  We still got to face the music, some day.
Stickiness 
Like WhatsApp and Facebook, they are both kind of sticky for my liking.  I rely on them daily.  Even when I am away for a break.
However, Grab and Uber have not reached that level yet.  It has not convinced many to sell their cars and rely on the public transport solely.
It is still nicer to drive my own car on the weekend, away at some where, with my loved ones, without a Uber or Grab driver around.